Introduction to Egypt
Egypt has enchanted and mystified travelers for centuries. Few destinations can match Egypt's iconic sites – The three Great Pyramids of Giza and the Sphinx. A cruise down the Nile continues to enchant, offering scores of exotic sights and experiences.
For many of your clients, Egypt will be on their travel bucket list. As fascinating as Egypt is, this is a travel destination in which your clients will benefit from the knowledge of a savvy travel agent. The Egypt Specialist & Sales Companion can definitely help you more easily get up to speed and sell more Egypt travel.
Egypt's a vast country, four times the size of the United Kingdom and twice the size of France. Over the past decade, Egypt has grown to become the modern hub of Africa. The country has numerous airports, ports and modern marinas, and major cities are connected through a network of newly-built highways. Telecommunications and Internet services in Egypt are booming, providing the infrastructure for your clients to stay connected.
Most of its cities, such as Cairo, Aswan, Asyut and Luxor, hug the shores of the Nile Valley, which stretches from the delta to Egypt's southernmost border. Alexandria, the country's second largest city after Cairo, is in the Nile Delta. The Sahara Desert, the world's second largest desert, makes up much of Egypt's fascinating and sparsely inhabited desert and oases areas.
Egypt is far from being landlocked, and its north coast is lapped by the Mediterranean, while its lower east coast and south Sinai lie alongside the Red Sea. Along the coastline are the towns and cities of Marsa Matrouh,Sal-lum, and El Alamein. The Sinai Peninsula and the Red Sea coastline and resorts are the country's top spots for water sports and family vacations.
While Egypt's main religion is Islam, the atmosphere is one of friendship between Muslims, Christians, and other religious faiths. People mix freely, and enjoy the modern cultural life of the country's major cities.
In regards to safety concerns your clients might have - and overcoming them - take a listen to a couple of very experienced agents who discuss how to use testimonials and specific information like the special tourism police on the ground. Just click on the two Agent Insight™ icons to the right.
Egypt Today
Egypt's rich history blends comfortably with modern day Egypt.
Ancient temples of the Nile Delta and the Nile Valley, and deserts stretch for miles, mixing with bustling cities. Red Sea resorts with five-star beach resorts are filled with vacationers enjoying a full range of leisure activities. Your clients will be mesmerized by the sun-scorched Sphinx, or viewing the priceless treasures contained in Cairo's Egyptian Museum. Whether it's a view of the sun going down behind the centuries-old pyramids, or following in the footsteps of the Holy Family, the sights and sounds of intriguing Egypt will stay with your clients for a lifetime.
Click on the first Agent Insight™ icon and listen to a PRO agent share why Egypt is so much more than the Pyramids for your clients - and then click on the second Agent Insight™ icon to hear more importantly why she is recommending NOW as a great time to visit (for your more rational clients).
Don't be afraid to paint a picture for your clients, especially those whose main focus is on Egypt's Christian heritage. Tell them about the mix of modern and ancient sights they'll see, from innovative new commercial buildings rising above the cities, to festivals featuring camels padding across the sands, dressed in brightly colored rugs and tassels. They'll bargain with street vendors in bustling souks selling all manner of goods, from artfully made crafts to consumer products and souvenirs. One thing is certain; visitors to Egypt will find themselves in the midst of living history.
Egypt is a religious country. While Islam is the official religion and most Egyptians are Muslim, there are also over 12 million Christians in Egypt. Egyptians typically like to work hard and live life to the fullest. The atmosphere of modern Egypt is one of friendship, encouraging everyone to enjoy lively cultural experiences; from conversing with new friends in a cozy café, to attending the latest performances of music, theater, and dance.
It all adds up to Egypt being a country that will captivate your clients. The wonders of Egypt are impossible to absorb in one trip, and chances are your clients will be planning a return visit before they even arrive home.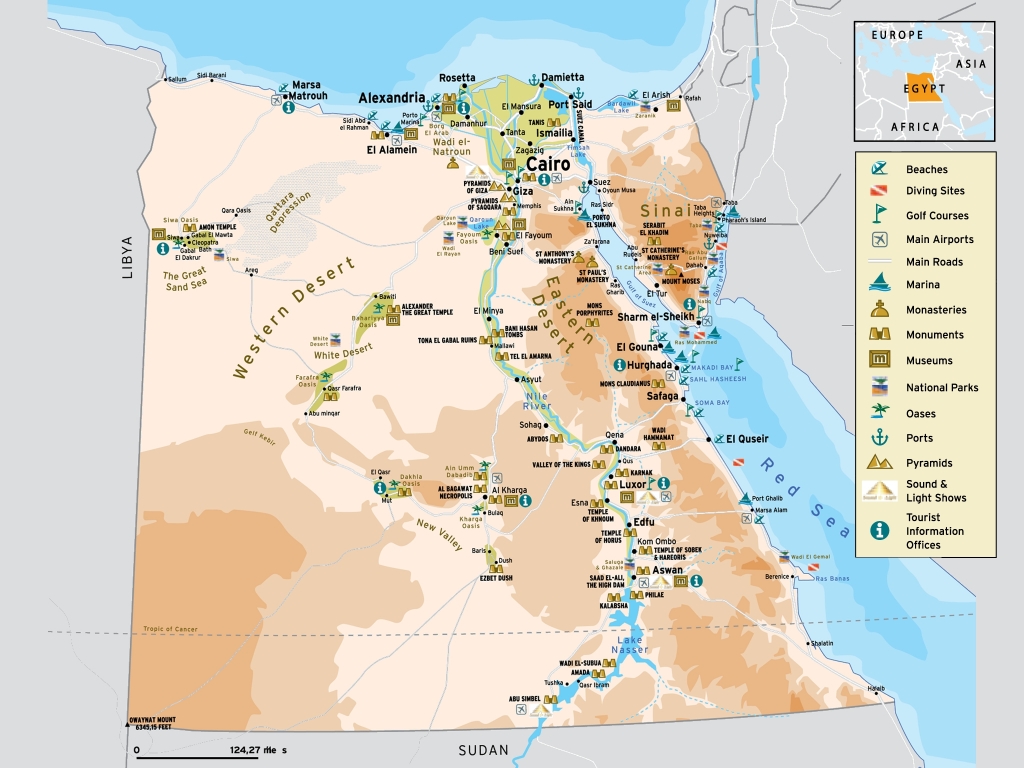 Getting There & Getting Around
Booking a flight to Egypt for your clients is a simple matter, especially if they're flying into the Nile Valley. The country's major airline, EgyptAir (www.egyptair.com), runs a regular and efficient international service to Cairo, Alexandria, Luxor and Aswan from airports around the world.
If your clients want to expand their Egypt adventure beyond the Nile Valley, EgyptAir provides a wide selection of inexpensive domestic flights. The carrier serves 11 major airports in Egypt: Abu Simbel, Alexandria, Assiut, Aswan, Cairo, Hurghada, Luxor, Marsa Alam, Marsa Matruh, Sharm el-Sheikh, and Taba.
It's also possible for your clients to arrive by road or by sea. Cruise ships often make Egypt a key stop on their itineraries.
Click on the Agent Insight™ icon to the right to hear an experienced agent share her thoughts on the infrastructure and getting around.
Public taxis are abundant in the main cities, and are the easiest way to get from point to point. Each city has taxis of a different color; for instance, black and white vehicles in Cairo, and yellow and black in Alexandria. Taxis have a receipt printer, but they're not always in service; best practice is to confirm the fee before setting off. For an upgrade in service in Cairo advise your clients to book one of the metered, air-conditioned black and white Taxis. These should be booked an hour before they're needed. Arrangements can be made through your clients' hotel concierge or front desk.
Egypt also has an extensive network of buses connecting the major cities. Bus companies such as Superjet, Delta and Upper Egypt provide air-conditioned transportation that includes refreshments, restrooms, and movies. Bus reservations should be made a day in advance.
Booking vacations or short trips to Egypt for your clients is easily done via links from the Egyptian Tourist Authority's website (www.egypt.travel).
Climate
For most of the year Egypt enjoys warm weather. In Cairo, summer days can sometimes reach temperatures of 95F (25-35C).
The way Egyptians live reflects this warm climate. Considering how hot it can get, the pace of life is generally slower. While city centers often appear bustling it isn't long before everyone takes a break from the heat to find a cool place to relax.
In late September and October; and in April and May, temperatures are mild, making it an ideal time to visit regions throughout the country.
The Red Sea Riviera has great weather all year round, making it perfect for beach vacations.
Practical Travel Information
Dos & Don'ts
Just like any other country, Egypt observes some basic matters of etiquette and conduct. Following these will make a traveler's Egyptian experience all the more enjoyable.
Please Do 
Respect the monuments: 

Archaeological sites are an intrinsic part of Egypt's heritage. Advise your clients to refrain from touching, scratching or sitting on monuments.

Dress with care: While there is no specific dress code in the cities, women will feel more comfortable if they refrain from wearing shorts and have their shoulders covered. This is particularly relevant when visiting churches and mosques. In the resort areas, women should wear cover-ups away from the pool and beach, and men should wear a shirt.
Drink lots of water: Advise your clients to drink lots of H2O to remain hydrated. To protect themselves from the direct sun, they should apply plenty of sunblock, and have sunglasses and a hat handy.
Carry Egyptian money: This will make purchases all the more easier, especially when shopping in the markets. Hotels and the main shops in tourist areas are likely to accept credit cards and foreign currencies, but smaller restaurants and stores are unlikely to, especially the further your clients travel into the desert and away from the tourist areas. Souk traders almost always deal in cash.
Buy souvenirs: 

One of the joys of visiting a country as fascinating as Egypt is the variety of souvenirs on display. Beautiful souks and numerous Egyptian handcrafts reflect the culture of different destinations along the Nile such as blown glass rugs, perfumes, alabaster, basket ware, textile and jewelry. Your clients will enjoy buying these as a reminder of their travels in Egypt, or to make gifts to those at home.

However, advise your clients to not attempt to take any antiquity. This is strictly forbidden and is against the law.
Please Don't
Go for desert excursions 

without an experienced guide and dependable driver.

Forget to check the time 

of the Esna Lock closures when booking a Nile cruise

Miss attending one of the sound and light shows 

along the Nile's archaeological sites.

Forget the camera, 

otherwise your clients will miss sharing enjoyable memories with their loved ones. In these times, they shouldn't forget to start the day with their phone or digital camera fully charged.
Accommodations
Whether your clients plan a stay in a fabulous five-star or four-star hotel, an overnight in a floating hotel on the River Nile, or a stay in budget accommodations, they'll find a high standard of facilities in Egypt, with exceptional value.
Visitors to Egypt have lots of choice when deciding on accommodations:
For a mix of luxury and history, there's the

Mena House Oberoi

, a former hunting lodge overlooking the

Pyramids

.

The 19th-century

Cairo Marriott

opened at the same time as the

Suez Canal

.

The famous five-star

Sofitel Old Cataract

is located on the banks of the

Nile

at

Aswan

, and is one of 'Death on the Nile' writer Agatha Christie's favorite hotels.

In

Luxor

, the

Sofitel Winter Palace

is a landmark five-star hotel next to the

Nile

. The hotel offers great views of the Valley of the Kings on the opposite of the river.

El Salamlek

in

Alexandria

, offers

high style

, and was once the residence of the Royal family.
Your clients can opt for a top class luxury hotel in Alexandria or one along the Mediterranean Coast, the Nile Valley's Cairo, Luxor or Aswan. They can choose one of the fabulous resorts in the Red Sea and Sinai regions or select accommodations keyed to their special interests, such as a spa resort, a boutique or historical hotel, golf resort or even a desert camp. 
If your clients have an interest in eco-tourism, they can stay in one of the country's eco-lodge hotels, both located in the Western Desert.
Qasr El-Bawity eco-lodge in the Bahariya Oasis.

Al Tarfa Desert Sanctuary Luxury Lodge and Spa at Dakhla.
Whatever type of hotel your clients' book, you'll have the peace of mind knowing they're in good hands, since Egyptian hoteliers are famous for their hospitality.
* Please Note: The hotels mentioned above are just a small selection from a great many hotels available in Egypt. For a full list tap the web-icon to visit the Egyptian Hotel Association website.